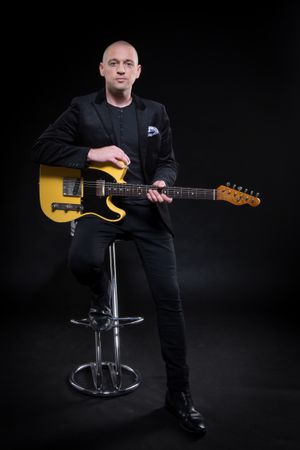 "He`s a well respected blues man the world over. His sound is definitely unique and certainly authentic. His songs are well crafted, forever notable with strong lyrics filled with cleverness and always delivered with considerable skill. His music shines with majestic picking and sliding.  His low gravelly voice is clear and adorned with a pristine inviting tone that is full of depth."                   - Cleve Baker, Confessing the Blues
 "Weevil is really a great songwriter and performer who can put together an album of songs with a really nice variety of styles and tempos and melds his band into a cohesive and locked in musical force...He ventures into lots of styles here but does not stray far from his blues roots.  I think he's got another winner here!"                - Steve Jones, Blues Bast Magazine
"This is no imposter. Little G Weevil understands the Blues from the shadings of Tupelo to Clarksdale bounce of Son House`s slide guitar to greasy Memphis drippings. He writes, arranges, plays guitar and sings like he as Delta as the rolling fields of outside of Como and as homebrewed as the sounds of Holly Springs."
 -Blues Revue

"Weevil evidences a strong-willed musical intelligence and the individuality to make his autobiographical tunes easy to like."
 -Downbeat

"Little G Weevil is an amazing player, singer and songwriter. He moves from Hooker to R. L. Burnside to Chuck Berry and old school Mississippi Delta without breaking stride at all. All originals, all stories taken from his life."
-Dan Aykroyd aka Elwood, House of Blues Radio

 "Little G Weevil is one of the most unique and talented entertainers I have seen in many years. Total control and ease on stage with no hidden agenda, only pure blues fun and mayhem. Little G travels the world playing his honest approach to life and Blues, and I can say that guys like this are too few and far between. This guy got it all in spades."
-Blues-E-News, Canada

"Well worth hunting down."
-Mojo, England

"Expertly played and thoroughly enjoyable throughout."
-fRoots Magazine, England

"Vibrant music from a passionate musician at the height of his creativity. Deep Blues immersion."
-Blues in London, England

"This artist tears up the dance floor. It`s the boogie of John Lee Hooker, the cutting guitar tone of Albert Collins, the great storytelling of Lightnin Hopkins and the raw Blues of the Delta. A real find!"
-Bluesnews, Germany

"Little G Weevil is the editor`s most pleasant discovery in 2011. This is a very special album, the music and the stories are away from all stereotypes. Blues in capital letters."
-Wasser-Prawda, Germany

"I have not stopped playing this record for the past two months. It is excellent, I love it; buttery smooth bluesin` down dirty voice, simple and effective.  Absolute cracker of an album."
-Rhythms, Australia
SOMETHING POPPIN` ALBUM REVIEW
"...Weevil is on guitar and vocals and his band includes Daniel Harper on drums Marton Pfeff on bass, and Matyas Premecz on keys.  Laci Borsodi is on guitar for tracks 8 and 10, Danny Del Toro plays harp on the first and third track and Dulzura raps on "Scrub."  Backing vocals are provided by Rebeka Easley Ellis and Sharika Allen Brown.  There are 8 Weevil originals here and two covers.
"Here I Come Knocking" is a driving and rocking blues that opens the CD.  Things slow down in the middle for a thoughtful respite and then things take off to the close again.  It's a catchy cut with piano and organ and harp and guitar and big vocals that grabs the listener.  The title cut is next and things slow down a bit in this soulful piece about a woman that Weevil has under his eye.  Tasty guitar graces the cut as does some nice vocal accompaniment. "See Me In The Country" is blues with a smidgen of country, rock and funk that makes things interesting.  A big guitar solo, more harp and funky organ make this a lot of fun. Written by Laci Borsodi, Weevil helped do the arrangements here."How Do You Want Me To Deal With This" is a darker R&B/soul piece with Weevil giving some real feeling to the lyrical delivery.  The organ helps set the tone for the cut in a nice solo but Weevil's growling vocals sell the song.  He also offers a restrained and cool guitar solo.  Gutsy and cool; loved this track! "You Can't Say Nothing" follows, a call and response R&B number with some pretty organ and guitar work
"Scrub" opens the second half of the album.  Dulzura  raps throughout while Weevil and backing vocalists offer up the choruses.  A stinging guitar adds tot he funky sounds from the keys and vocals as the song builds and builds and then goes into an outro.  Nicely done!  Curtis Mayfield's "Pusherman" gets a gritty makeover with Weevil making this his own as his guitar and Premecz ' work on keys make this update sound good. Laci Borsodi's lead and rhythm guitar is featured on "Crawling," getting a big solo midway through the cut.  The song starts out with some restraint and builds; the conclusion is a fiery and fun guitar duo with Weevil and Borsodi trading licks. The ballad "I Don't Want To Feel The Rain" follows.  Weevil and the backing vocalists offer up soulful vocals and a little pretty guitar make this one cool.  Borsoli returns on the concluding piece, "Top Model."  It's got a driving tempo that the guitar and keys fuel.  Weevil and he vocalist also get a workout as they conclude the album as they began it- lots of energy abounds!
This is a fine album of originals and a nicely done cover.  Weevil is really a great songwriter and performer who can put together an album of songs with a really nice variety of styles and tempos and melds his band into a cohesive and locked in musical force.  I enjoyed the album and I think most blues fans will, too.  He ventures into lots of styles here but does not stray far from his blues roots.  I think he's got another winner here!"
- Blues Blast Magazine
                                                               THREE CHORDS TOO MANY ALBUM REVIEW
...His fourth CD, is a fine set of nine original and two cover tunes with a spoken track recorded in two settings (St. Louis for the first 5 cuts and Budapest for the remainder).  Joining him are Paul Nieahus on upright bass, mandolin and guitars in the US session, Matyas "Champ" Pribojski on harp, Zoltan "Jambalaya" Nemes on piano and Zsolt Pinter on fiddle for one track. His 3rd release was on Bob Margolin's Vizztone
"Apple Picker" kicks off the CD. It's a nice slow blues with slick finger picking and gritty vocals in a very traditional style.  The tempo picks up in "Dad's Story," a song about what the titles says it is.  It's a cool little piece.  Jimmy Rogers' "You're The One" follows and Weevil does a fine job with it.  The guitar and backing has a country porch sort of lazy goodness to it, giving a winding on and on feeling while sipping on a cold lemonade on a warm summer's day.  Little G offers up a really good solo here, too. "Going Back South" is a sultry and deep slow blues in a hill country style that was sweet.
"Place A Dollar In My Hand" is completely solo, just Weevil with his guitar and stomp box.  He aptly demonstrates why he won the IBC with his music.  "The Tale of Captain Siegal" is the first of the Budapest recordings and has the fiddle added for good support as he and Pinter give an upbeat performance as Weevil tells the story of the sea captain named Seagal.  "One Little Cup" and "Wealthy Man" feature the harp and piano.  The former is a jumping boogie woogie that is a lot of fun and the supporting cast does a superb job.  The piano drives the song along and the harp punctuates well.  Both offer well-done solos and Weevil's vocals are great, too.  The latter is a mid tempo cut with jazzy influences with Weevil singing about how this woman needs a man with lots of money to sustain her.  Again the harp and piano add a lot to the song.
Solo slide guitar is featured next on "Outdated Citizen."  Little G does a nice job on the slide and vocals as he stomps out the beat.  "Sunshine Blues" is another finger picking gem, slower in tempo as Weevil moans out his slow, traditional blues.  "Meet Me In The City" is the last cut and it's a thoughtful instrumental Junior Kimbrough piece.  "Saving A Marriage" concludes things for real; it's a spoken track of a story of sharing a bed with his drummer on tour in Lapland.  It's funny and maybe a little out of place, but what the heck- it's his album.
The songs are well-crafted, the lyrics are solid, the sound is authentic and Weevils vocals and guitar work are very cool.  The 11 songs are all an excellent listen and I recommend this for all fans of acoustic blues.  Weevil gives us a highly professional and outstanding CD to enjoy here!
- Blues Blast Magazine

                                                                            "MOVING" ALBUM REVIEW
 
"Little G Weevil professes to be "in love with raw old-school blues", and one would have to be insane to argue with him, as his work is so damned authentic it sounds as though pulled from some of those great old 'race record' 45s and 78s. The Moving sessions were made to be about as acoustic as it's possible to get, barring even amplifiers, and perfectly resurrect the ancient roadhouse and ghetto shanty sound, luminously recorded with pinpoint precision. The Vizztone label is a stickler, thank God, when it comes to this kind of sound, even to the point of ranging Weevil's delta vocals to various positions in the sound field in order to replicate the oft chance placements of microphone and singer from days of old.
 
Weevil's fingerpicking and slide playing are both light and dark, nimble, and thick with a genuine stank on 'em, showing where later bands, as in Bill Harkleroad and Capt. Beefheart's eccentric futurisms, found their true genesis. A lot of those first blues cats were way the hell ahead of their time and still are, later players still trying to catch up. The blues, after all, isn't just about being jacked over by your woman, the government, the boss man, and whoever else came your way that day but also contains a liberal element of hope amid life's many miseries. Thus, what can be hopeless and negative one moment sometimes becomes happy and positive the next…or even both at once, which Weevil demonstrates an interesting synthesis of many times.
 
The opening cut, Shook It and Broke It, is Weevil on his lonesome, just voice, guitar, and foot tapping, but many of the tracks add in his band of the moment…quite sparely, though, so the spotlight remains on the singer and his pickin'. This, of course, is in strong sympathy with the pre-electric first phase of the blues, before Les Paul ever fetched a solder gun and pick-ups to the instrument. Moving is a rare CD, as you're going to catch a cat like this only just so often in a lifetime, if ever, so I highly recommend not only the disc but that you keep an eye peeled for Little G Weevil in concert. For this kind of music, real-time visual attitude and presence count for a lot." 
By Folk & Acoustic Music Exchange

                                                                        "THE TEASER" ALBUM REVIEW              
 
 
 "While some albums take several listens to appreciate, with "The Teaser", no tease is required, this is a real deal! Throughout Little G excels in a range of styles of blues.
Based in Atlanta, Georgia, the vocalist and guitarist has put together an exceptionally strong line-up of supporting musicians, including Bill Burke on bass, Bob Page on piano
 and organ, Maurice Nazzaro on harmonica and John V McKnight on drums and percussion. Their contributions to this album cannot be underestimated as they provide some finesse to the recording; however this only tells part of the story.
 
 Weevil sings and hollers like a consummate bluesman, disguising his relatively young age (34). His sharp vocals illuminate this set of songs and his blues phrasing is exceptional.  His guitar playing varies from the stinging style of Albert Collins, to the downhome picking of Lightning Hopkins. Furthermore his self-composed material really makes this a standout album of great variety.
 
 'Real Men Don't Dance is a harp lead upbeat opener, while the combination of electric guitar and organ come to the fore on 'Big City Life' (apparently inspired by time spent in London).  Knight's drum patterns provide a distinctive foundation, on tracks such as the co-penned 'Highway 78'. 'Apple Picker' recalls Albert Collins at his most smooth. 'Back Porch' meanwhile takes its influence from the Hill Country of R L Burnside. While '8.47' is the most guitar centric track, 'Losing Cool' is rather reminiscent of the on piano throughout 'She Used to Call Me Sugar' which has a Muddy Waters feel.  Maybe he's covering all the bases, but he does it so well, and in a distinctive style. Indeed I found the lyrics of the title track replaying in my head the following day, conclusive evidence that this is a truly memorable recording. In summary: superb old school blues performed in a contemporary setting, very highly recommended."