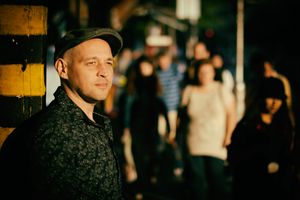 Little G Weevil is a highly esteemed member of the worldwide blues community. He is the solo winner of the Blues Foundation`s International Blues Challenge in 2013, and has been nominated for USA Blues Music Award, Blues Blast Music Award and USA Independent Blues Award. He released eight internationally acclaimed albums and toured across the globe.
During his travels he shared the stage with legendary musicians such as Johnny Winter, the Neville Brothers, Terry Evans, John Popper, Lee Oskar, Anson Funderburgh and the Rockets with Sam Myers, Denise Lasalle, Billy Gibson, Otis Taylor, Big Jack Johnson, Lonnie Shields, Lurrie Bell, Willie King, Ian Siegal, Matt Scofield and many more.
Gee grew up in Budapest, Hungary. He formed his first band in 1996 and began touring mostly in European countries before moving to the South of the United States in 2004. He spent time in Birmingham, AL and Memphis, TN as he tried to establish himself on the local scene. Finally he got his break with a steady gig on Beale Street in Memphis and his reputation started to grow.
In 2005, he made his first solo recordings at Charlie Wood's studio in Memphis but three tracks out of the total four were lost due to a technical fault.  The one remaining track "Hey Jody" was missing the bass line which was later re-recorded by Csaba Pengo in order to save the full track.  Finally "Hey Jody" was released as the opening number of Gee's debut solo album "Southern Experience" in 2008. 
In 2009, Gee relocated to Atlanta, GA where he teamed up with legendary local musicians for his second album "The Teaser". This backing crew of long time heavy hitters (John McKnight, Bill Burke, Bob Page, Maurice Nazzaro) toured with icons such as John Lee Hooker and Chuck Berry. The record was released in December, 2011 and wowed critics worldwide. It was ranked one of the best blues albums of the year by Mojo magazine -the elite England based publication- and topped the blues chart for an entire month in France.  
In 2013, Little G took the first place of the International Blues Challenge (Memphis, TN) in the solo category. He was also awarded as "Best Guitarist" in his category. The same year he released his first full length acoustic record "Moving" through Vizztone Label Group. It was a Top 10 album on the global internet blues radio airplay chart for two months in a row, Mojo magazine ranked it Top 3 "Best Blues Album of the Year" and it was nominated for Blues Blast Music Award "Acoustic Album of the Year".
In 2014, Gee was nominated for USA Blues Music Award "Acoustic Artist of the Year". In the same year he was invited to join the judging panel in the 5th series of X-Factor (Hungary) the popular television music talent show franchise. 
In 2016 his fourth album "Three Chords Too Many" has received an Independent Blues Music Award nomination as "Best Acoustic Blues Album of Year". 
With a collaboration between US record company Vizztone Label Group and the Hungarian XLNT Records, he released his third electric band work in 2017, titled "Something Poppin`". This is Gee`s first effort to venture away from traditional blues into a more contemporary sound.
"This is a groundbreaking work that shatters preconceived notions of style and genre. This album has everything that blues music had influence on — Rock n Roll, Soul, Funk, R&B even hip hop and rap elements mixed together with the essence of what they all come from: Blues" - Vizztone
"Weevil mixes blues with hip hop and rap and the result is fantastic!" - American Blues Scene
"Something Poppin`" was nominated for Independent Blues Award in the USA " Best Modern Roots CD of the Year" and Hungarian Music Award.
 The album "Back in Alabama" was released in 2018.
Due to family reasons Little G Weevil returned to Budapest in December 2018.
He spent most of 2019 on the road touring his home country Hungary and also Spain, Belgium and the Netherlands. 
During the first year of the covid pandemic he wrote a novel - based on real life - titled "Játssz Tovább" (meaning Play On, the adventures of a Hungarian blues man around the world), which is now distributed nationwide in Hungary. The book is planned to be translated to English, Spanish, French and Portuguese languages in the very near future.
With his 2020 electric band album "Play On", Little G Weevil wanted to continue his idea of blending genres as he did in 'Something Poppin'. However, this time he would focus on his songwriting skills rather than be in the spotlight as the main vocalist.
" As you know I don't like to repeat myself, I prefer evolvement and growth. This is my first record as a songwriter, producer mainly and not "only" the man singing in the middle. To me, this is all about the music. Period. You must love and cherish the music itself, as you want it sound the best. And when you find someone who delivers the message the way you imagined it in your head while writing the song, that is just magical. A pure joy, a blessing. I'm honored to be able to work with these fantastic singers. They all hopped on board with no hesitation or ego, no question about money or promotion, you know. I guess we are just happy to make good music together, since we all come from different genres and don't really cross paths often. This is truly a one night only album and that makes it so special. - says Weevil
The Play On album featuring singers from the United Kingdom and Hungary: Dionne Bennett, Ian Siegal, Fatima Mohamed, CéAnne, Vera Jonas, Sena Dagadu, Rita Foris, Jonathan Andelic and Mo' Gigs front man Csaba Gál "Boogie". 
In February 2021, Little G recorded a 100% acoustic, 100% live solo set for Hunnia Records. The 17 songs set was released digitally in April as "Live Acoustic Session". The album was nominated for Blues Blast Music Award in the "Live Blues Recording of the Year" category. 
Discography:
2021 - Live Acoustic Session (Hunnia)
2020 - Play On (Gee Wee)
2020 - Fish Tank (Gee Wee, EP)
2018 - Back in Alabama (Gee Wee)
2017 - Something Poppin` (Vizztone/XLNT)
2016 - Three Chords Too Many (XLNT)
2013 - Moving (Vizztone)
2012 - The Teaser (Apic)
2008 - Southern Experience (Apic)

Recognition:
2021 Blues Blast Music Award Nominee "Live Blues Recording of the Year" for "Live Acoustic Session" (USA)
2017 Independent Blues Award Nominee "Best Modern Roots CD of the Year" for "Something Poppin`"  (USA)
2017 Hungarian Music Award Nominee for "Something Poppin`" 
2016 Independent Blues Award Nominee "Acoustic Blues Album of the Year" for "Three Chords Too Many" (USA)
2014 HANOSZ Award Recipient "Musician of the Year" - Hungary
2014 Blues Blast Music Award Nominee "Acoustic Album of the Year" for "Moving"  (USA)
2014 USA Blues Music Award Nominee "Acoustic Artist of the Year"
2013 International Blues Challenge Solo Winner - (USA)
2013 International Blues Challenge "Best Solo/Duo Guitarist"  - (USA)